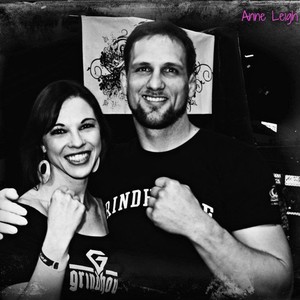 William Grundhauser & Britani Morton
Will and Britani are the owners of Billing's premier martial arts facility: The Grindhouse; as well as, Advocare Advisors.
Will and Britani are compassionate, caring, and driven people. They spend their time helping individuals reach their ultimate goals in life by presenting ways to improve their health, happiness, and finances.
Are you someone who would enjoy:
*More energy?
*To slim down or tone up?
*An increase in stamina, speed, endurance, or strength?
*Becoming an overall healthy person?
*The opportunity to own your own business?
*Financial freedom?
*More time with you family?
*To go on amazing vacations like: Going to ... (more)
Will and Britani are the owners of Billing's premier martial arts facility: The Grindhouse; as well as, Advocare Advisors.
Will and Britani are compassionate, caring, and driven people. They spend their time helping individuals reach their ultimate goals in life by presenting ways to improve their health, happiness, and finances.
Are you someone who would enjoy:
*More energy?
*To slim down or tone up?
*An increase in stamina, speed, endurance, or strength?
*Becoming an overall healthy person?
*The opportunity to own your own business?
*Financial freedom?
*More time with you family?
*To go on amazing vacations like: Going to New Orleans to meet Drew Brees and Matthew McConaghey? (Like Will and Britani just did!)
Book your Mixer today! Will and Britani will come to your home or place of interest and explain Advocare and what it means to be healthy and how to obtain it!
They will also be available for some Question and Answer time covering the products and the opportunity to reach financial freedom with Advocare!
Please feel free to encourage your family and friends to join!
For any questions you can email grindhouseadvocare@gmail.com.
previous
/image/gallery_image/492519/toggle-heart

doImageHeartClickCallback

doImageHeartClickCallfirst

/image/gallery_image/492521/toggle-heart

doImageHeartClickCallback

doImageHeartClickCallfirst

/image/gallery_image/492526/toggle-heart

doImageHeartClickCallback

doImageHeartClickCallfirst

/image/gallery_image/492527/toggle-heart

doImageHeartClickCallback

doImageHeartClickCallfirst
next
1617 1st Ave North
Billings, MT, 59101
406-839-4428
| | | | |
| --- | --- | --- | --- |
| Thursday | 7:30pm | — | 9:00pm |
| Friday | 11:00am | — | 9:00pm |
| Saturday | 11:00am | — | 9:00pm |
| Sunday | 11:00am | — | 7:00pm |