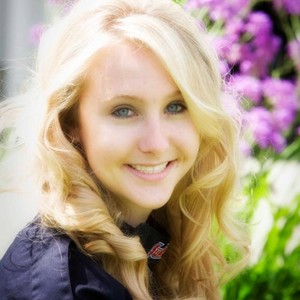 Sarah Rathmanner
My name is Sarah Rathmanner a licensed hair stylist at Pincurl Palace in the Spokane Valley. My mission as a professional Cosmetologist is to provide my clients with exceptional customer service in a warm and inviting salon, while achieving the client's hair goals with quality work and professionalism. I use Goldwell as my color line, the leading professional color line in the industry to deliver you your customized color formulation. For those who love curls, I use a thio-free perm for the best curl results that can keep your hair in a healthy condition. I am a motivated, friendly, and ... (more)
My name is Sarah Rathmanner a licensed hair stylist at Pincurl Palace in the Spokane Valley. My mission as a professional Cosmetologist is to provide my clients with exceptional customer service in a warm and inviting salon, while achieving the client's hair goals with quality work and professionalism. I use Goldwell as my color line, the leading professional color line in the industry to deliver you your customized color formulation. For those who love curls, I use a thio-free perm for the best curl results that can keep your hair in a healthy condition. I am a motivated, friendly, and reliable hair stylist, give me a call and book an appointment today! For now I am available at Pincurl Palace Saturdays, Sundays, and Mondays at any time just schedule your appointment. 509-385-2781.
2406 S. Dishman Mica, Spokane Valley, WA 99206, suite 6
By Appointment only/cash or check
mention you found me on style seat and receive a special of $10 off a chemical service.
previous
/image/gallery_image/902394/toggle-heart

doImageHeartClickCallback

doImageHeartClickCallfirst

/image/gallery_image/902398/toggle-heart

doImageHeartClickCallback

doImageHeartClickCallfirst

/image/gallery_image/902401/toggle-heart

doImageHeartClickCallback

doImageHeartClickCallfirst

/image/gallery_image/902406/toggle-heart

doImageHeartClickCallback

doImageHeartClickCallfirst

/image/gallery_image/902407/toggle-heart

doImageHeartClickCallback

doImageHeartClickCallfirst

/image/gallery_image/902427/toggle-heart

doImageHeartClickCallback

doImageHeartClickCallfirst

/image/gallery_image/902434/toggle-heart

doImageHeartClickCallback

doImageHeartClickCallfirst

/image/gallery_image/902437/toggle-heart

doImageHeartClickCallback

doImageHeartClickCallfirst

/image/gallery_image/902441/toggle-heart

doImageHeartClickCallback

doImageHeartClickCallfirst

/image/gallery_image/902446/toggle-heart

doImageHeartClickCallback

doImageHeartClickCallfirst

/image/gallery_image/902449/toggle-heart

doImageHeartClickCallback

doImageHeartClickCallfirst

/image/gallery_image/902454/toggle-heart

doImageHeartClickCallback

doImageHeartClickCallfirst

/image/gallery_image/909879/toggle-heart

doImageHeartClickCallback

doImageHeartClickCallfirst

/image/gallery_image/909880/toggle-heart

doImageHeartClickCallback

doImageHeartClickCallfirst

/image/gallery_image/909884/toggle-heart

doImageHeartClickCallback

doImageHeartClickCallfirst

/image/gallery_image/909888/toggle-heart

doImageHeartClickCallback

doImageHeartClickCallfirst

/image/gallery_image/909891/toggle-heart

doImageHeartClickCallback

doImageHeartClickCallfirst

/image/gallery_image/909895/toggle-heart

doImageHeartClickCallback

doImageHeartClickCallfirst

/image/gallery_image/932384/toggle-heart

doImageHeartClickCallback

doImageHeartClickCallfirst

/image/gallery_image/951502/toggle-heart

doImageHeartClickCallback

doImageHeartClickCallfirst
next
Hair Color

Root touch up

includes style/haircut roots/color refresh- $75

$45 and up
1 hr.
REQUEST
Full Color

10$ additional bowls of color, includes haircut

$75 and up
2 hr., 45 min.
REQUEST
Full Foil

includes haircut and style.

$95
3 hr.
REQUEST
Ombre/ Balyage

$95 and up
2 hr., 30 min.
REQUEST
Partial foil

includes haircut and style.

$75
2 hr., 30 min.
REQUEST
A few Foils

Want a few blonde/lightened pieces without being a highlighted blonde? lets add 1-4 foils of lightener. includes style

$20
45 min.
REQUEST
Color Corrections

includes style/cut. Free color consultation. short hair starts at 100 Long hair starts at 120

$120 and up
5 hr.
REQUEST
peek-a-boo's

Add a pop of color with a few foils.. you pick color placement! includes style.

$30
45 min.
REQUEST
Toning/ clear coat Cancel unwanted tones in your lightened hair or just add a clear coat for additional shine/conditioning/ smooth your hair's cuticle! ... (more)
$25
30 min.
REQUEST

Haircuts

Women's cut

Includes scalp/neck massage and style.

$28
1 hr., 15 min.
REQUEST
Men's cut

include scalp and neck massage. Beard/eyebrow trim included

$18
45 min.
REQUEST
Children's cut

$15
30 min.
REQUEST

Permanent Waving

Short Hair perm

includes haircut/style

$70
2 hr., 45 min.
REQUEST
Medium-Long hair Perm

includes Haircut/style. Specialty wraps $20 more. body, waves, and curls oh ya!

$100 and up
3 hr., 30 min.
REQUEST

Styling

Shampoo/Style

For those who wear a style weekly.

$18
45 min.
REQUEST
Updo

$40 and up
1 hr., 30 min.
REQUEST
Wedding Updo

includes a complimentary practice/trial run. 80$ for off salon location

$65 and up
1 hr., 45 min.
REQUEST
iron curl

$20 and up
45 min.
REQUEST
2406 S. Dishman Mica, suite 6
Spokane Valley, WA, 99019
509-385-2781
| | | | |
| --- | --- | --- | --- |
| Monday | 9:00am | — | 6:00pm |
| Saturday | 9:00am | — | 6:00pm |
| Sunday | 9:00am | — | 6:00pm |