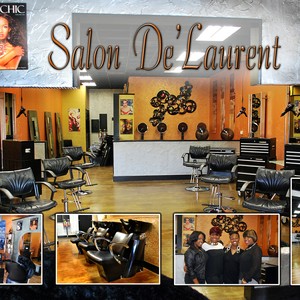 Salon De' Laurent
Upscale Salon De' Laurent is a warm and friendly environment. Nestled in the heart of Northeast Charlotte, the décor consists of an eclectic mix of couture and vintage style furniture, lighting and salon equipment. We strive to have a fun, uplifting, friendly atmosphere with some of the most professional hair designers around. When in our salon, you'll be treated with great service. We give thorough and expert consultations before the start of your service. You'll know exactly what to expect and what you're getting before the start of your service. The team will dazzle you with their extensive knowledge of ... (more)
Upscale Salon De' Laurent is a warm and friendly environment. Nestled in the heart of Northeast Charlotte, the décor consists of an eclectic mix of couture and vintage style furniture, lighting and salon equipment. We strive to have a fun, uplifting, friendly atmosphere with some of the most professional hair designers around. When in our salon, you'll be treated with great service. We give thorough and expert consultations before the start of your service. You'll know exactly what to expect and what you're getting before the start of your service. The team will dazzle you with their extensive knowledge of classic, but trend setting, cuts and coloring, and hair weaving techniques. So, stop by and see what everyone is talking about.
Salon De' Laurent Mission Statement
At Salon De' Laurent our mission is to create an environment that promotes mutual respect between our dedicated professionals and the clients that we serve. Salon De' Laurent is committed to motivating prosperity based on inspiring education, quality techniques and teamwork. We hold ourselves accountable for exceeding our clients' high expectations and recognize every client as our ultimate focus.

previous
/image/gallery_image/610529/toggle-heart

doImageHeartClickCallback

doImageHeartClickCallfirst

/image/gallery_image/610612/toggle-heart

doImageHeartClickCallback

doImageHeartClickCallfirst

/image/gallery_image/610623/toggle-heart

doImageHeartClickCallback

doImageHeartClickCallfirst

/image/gallery_image/610647/toggle-heart

doImageHeartClickCallback

doImageHeartClickCallfirst

/image/gallery_image/1820117/toggle-heart

doImageHeartClickCallback

doImageHeartClickCallfirst

/image/gallery_image/1823492/toggle-heart

doImageHeartClickCallback

doImageHeartClickCallfirst

/image/gallery_image/1823494/toggle-heart

doImageHeartClickCallback

doImageHeartClickCallfirst

/image/gallery_image/1823506/toggle-heart

doImageHeartClickCallback

doImageHeartClickCallfirst

/image/gallery_image/1823509/toggle-heart

doImageHeartClickCallback

doImageHeartClickCallfirst

/image/gallery_image/1823551/toggle-heart

doImageHeartClickCallback

doImageHeartClickCallfirst

/image/gallery_image/1823552/toggle-heart

doImageHeartClickCallback

doImageHeartClickCallfirst

/image/gallery_image/1823555/toggle-heart

doImageHeartClickCallback

doImageHeartClickCallfirst

/image/gallery_image/1823557/toggle-heart

doImageHeartClickCallback

doImageHeartClickCallfirst

/image/gallery_image/1823560/toggle-heart

doImageHeartClickCallback

doImageHeartClickCallfirst

/image/gallery_image/1823562/toggle-heart

doImageHeartClickCallback

doImageHeartClickCallfirst

/image/gallery_image/1823563/toggle-heart

doImageHeartClickCallback

doImageHeartClickCallfirst

/image/gallery_image/1823564/toggle-heart

doImageHeartClickCallback

doImageHeartClickCallfirst

/image/gallery_image/1823566/toggle-heart

doImageHeartClickCallback

doImageHeartClickCallfirst

/image/gallery_image/1823567/toggle-heart

doImageHeartClickCallback

doImageHeartClickCallfirst

/image/gallery_image/1823570/toggle-heart

doImageHeartClickCallback

doImageHeartClickCallfirst
next
5708c North Sharon Amity
Charlotte, NC, 28215
704-566-7700
| | | | |
| --- | --- | --- | --- |
| Monday | 9:00am | — | 6:00pm |
| Tuesday | 9:00am | — | 6:00pm |
| Wednesday | 9:00am | — | 6:00pm |
| Thursday | 9:00am | — | 6:00pm |
| Friday | 9:00am | — | 6:00pm |
| Saturday | 9:00am | — | 6:00pm |
| Sunday | 2:00pm | — | 6:00pm |