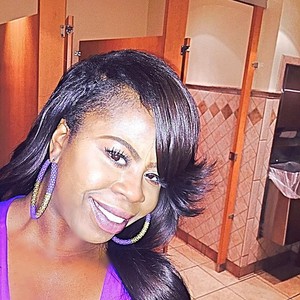 Gazell Hollis
I'M A HAIRSTYLIST,MAKEUP ARTIST AND A FASHONISTA .
I LOVE GLAMOUR AND BEAUTY..AND MY PERSONALITY MATCHES THE RAINBOW FULL OF LIFE AND FULL OF COLOR. I'VE BEEN DOING HAIR SINCE I WAS 13 YRS OLD. I BOUGHT MY FIRST WARDOBE ALL YEAR LONG IN 7TH GRADE, I WAS SO GOOD OVER TIME I HAD ACCUMULATED A CLIENT BASE OF ABOUT 80 YEAH I KNOW...
I LATER GRADUATED AND WENT ON TO CONTINENTAL BEAUTY SCHOOL. WORKING AND GOING TO SCHOOL I KEEP FOCUS ON MY DREAM BECOMING A REALITY, AND IT HAPPEN GRADUATING LATER ON TAKING AND PASSING MY TEST NOW ... (more)
I'M A HAIRSTYLIST,MAKEUP ARTIST AND A FASHONISTA .
I LOVE GLAMOUR AND BEAUTY..AND MY PERSONALITY MATCHES THE RAINBOW FULL OF LIFE AND FULL OF COLOR. I'VE BEEN DOING HAIR SINCE I WAS 13 YRS OLD. I BOUGHT MY FIRST WARDOBE ALL YEAR LONG IN 7TH GRADE, I WAS SO GOOD OVER TIME I HAD ACCUMULATED A CLIENT BASE OF ABOUT 80 YEAH I KNOW...
I LATER GRADUATED AND WENT ON TO CONTINENTAL BEAUTY SCHOOL. WORKING AND GOING TO SCHOOL I KEEP FOCUS ON MY DREAM BECOMING A REALITY, AND IT HAPPEN GRADUATING LATER ON TAKING AND PASSING MY TEST NOW LICENSED, I PRACTICE RIGHT HERE AT MY QUIET HOME AWAY FROM HOME SALON I DO ANYTHING FROM COLOR, WEAVING TO FACIAL, ALSO A MAKEUP ARTIST(LASHES)ETC...I CUSTOMIZE LOOKS TO RAISE YOUR ESTEEM AND ADD SOME SPICE TO YOUR LIFE.....
previous
/image/gallery_image/20770/toggle-heart

doImageHeartClickCallback

doImageHeartClickCallfirst

/image/gallery_image/20771/toggle-heart

doImageHeartClickCallback

doImageHeartClickCallfirst

/image/gallery_image/20772/toggle-heart

doImageHeartClickCallback

doImageHeartClickCallfirst

/image/gallery_image/20774/toggle-heart

doImageHeartClickCallback

doImageHeartClickCallfirst

/image/gallery_image/20775/toggle-heart

doImageHeartClickCallback

doImageHeartClickCallfirst

/image/gallery_image/20777/toggle-heart

doImageHeartClickCallback

doImageHeartClickCallfirst

/image/gallery_image/20778/toggle-heart

doImageHeartClickCallback

doImageHeartClickCallfirst

/image/gallery_image/20779/toggle-heart

doImageHeartClickCallback

doImageHeartClickCallfirst

/image/gallery_image/20780/toggle-heart

doImageHeartClickCallback

doImageHeartClickCallfirst

/image/gallery_image/20781/toggle-heart

doImageHeartClickCallback

doImageHeartClickCallfirst

/image/gallery_image/20782/toggle-heart

doImageHeartClickCallback

doImageHeartClickCallfirst

/image/gallery_image/20785/toggle-heart

doImageHeartClickCallback

doImageHeartClickCallfirst

/image/gallery_image/20787/toggle-heart

doImageHeartClickCallback

doImageHeartClickCallfirst

/image/gallery_image/23030/toggle-heart

doImageHeartClickCallback

doImageHeartClickCallfirst

/image/gallery_image/23032/toggle-heart

doImageHeartClickCallback

doImageHeartClickCallfirst

/image/gallery_image/23033/toggle-heart

doImageHeartClickCallback

doImageHeartClickCallfirst

/image/gallery_image/23045/toggle-heart

doImageHeartClickCallback

doImageHeartClickCallfirst

/image/gallery_image/23062/toggle-heart

doImageHeartClickCallback

doImageHeartClickCallfirst

/image/gallery_image/34456/toggle-heart

doImageHeartClickCallback

doImageHeartClickCallfirst

/image/gallery_image/34457/toggle-heart

doImageHeartClickCallback

doImageHeartClickCallfirst
next
Lashes

lashes strips & individual

false lashes are added to natural lash for extention and illusion of long beautiful! to dramatic! serviced offered.....

$10 and up
15 min.
REQUEST

special services

makeup,lashes and eyebrow combo for special events customized looks created by myself not only do i practice hairstyling i'm also a makeup artist i use the best ... (more)
$35
1 hr.
REQUEST
68 parkridge
BUFFALO, NY, 14215
623-451-0241
| | | | |
| --- | --- | --- | --- |
| Monday | 9:00am | — | 6:00pm |
| Tuesday | 9:00am | — | 6:00pm |
| Wednesday | 9:00am | — | 6:00pm |
| Thursday | 9:00am | — | 6:00pm |
| Friday | 7:00am | — | 7:00pm |
| Saturday | 7:00am | — | 7:00pm |
| Sunday | 6:00am | — | 1:00pm |