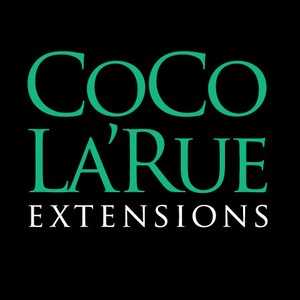 CoCo La Rue
For more than 10 years, Natural Hair Stylist Co Co LaRue has perfected the art of delivering celebrity styles through undetectable hair extensions & beautiful lace front wigs. After years of working as a stylist in television, film, print, wedding hair stylist & makeup artist CoCo can give you a celebrity look that you will love. Using her unique Remy Hair line made of 100% human hair imported directly from India & Italy, CoCo provides hair that is unmatched in quality in the industry & that prevents breakouts & allergic reactions common to other brands. CoCo LaRue in Washington DC ... (more)
For more than 10 years, Natural Hair Stylist Co Co LaRue has perfected the art of delivering celebrity styles through undetectable hair extensions & beautiful lace front wigs. After years of working as a stylist in television, film, print, wedding hair stylist & makeup artist CoCo can give you a celebrity look that you will love. Using her unique Remy Hair line made of 100% human hair imported directly from India & Italy, CoCo provides hair that is unmatched in quality in the industry & that prevents breakouts & allergic reactions common to other brands. CoCo LaRue in Washington DC metro are specializes in: Natural Hair Extensions (links, micro links & flat method), sew in or bonding weaves & custom clip in extensions. Other services include: hair straightening, haircuts & styles, makeup application, eyelash extensions & eyebrow shaping.
Hair & Makeup Artist CoCo La'Rue Boutique also offers her very own brand of makeup "CoCo La Rue Cosmetics."
Receive a celebrity look from an A List Stylist, book your appointment today.
previous
/image/gallery_image/4827044/toggle-heart

doImageHeartClickCallback

doImageHeartClickCallfirst

/image/gallery_image/2150277/toggle-heart

doImageHeartClickCallback

doImageHeartClickCallfirst

/image/gallery_image/2150267/toggle-heart

doImageHeartClickCallback

doImageHeartClickCallfirst

/image/gallery_image/4827049/toggle-heart

doImageHeartClickCallback

doImageHeartClickCallfirst

/image/gallery_image/2150297/toggle-heart

doImageHeartClickCallback

doImageHeartClickCallfirst

/image/gallery_image/2150293/toggle-heart

doImageHeartClickCallback

doImageHeartClickCallfirst

/image/gallery_image/666156/toggle-heart

doImageHeartClickCallback

doImageHeartClickCallfirst

/image/gallery_image/2150307/toggle-heart

doImageHeartClickCallback

doImageHeartClickCallfirst

/image/gallery_image/2150286/toggle-heart

doImageHeartClickCallback

doImageHeartClickCallfirst

/image/gallery_image/2150312/toggle-heart

doImageHeartClickCallback

doImageHeartClickCallfirst

/image/gallery_image/2150263/toggle-heart

doImageHeartClickCallback

doImageHeartClickCallfirst

/image/gallery_image/2150315/toggle-heart

doImageHeartClickCallback

doImageHeartClickCallfirst

/image/gallery_image/2150259/toggle-heart

doImageHeartClickCallback

doImageHeartClickCallfirst

/image/gallery_image/2150304/toggle-heart

doImageHeartClickCallback

doImageHeartClickCallfirst

/image/gallery_image/2150303/toggle-heart

doImageHeartClickCallback

doImageHeartClickCallfirst

/image/gallery_image/2150300/toggle-heart

doImageHeartClickCallback

doImageHeartClickCallfirst

/image/gallery_image/2150246/toggle-heart

doImageHeartClickCallback

doImageHeartClickCallfirst

/image/gallery_image/666149/toggle-heart

doImageHeartClickCallback

doImageHeartClickCallfirst

/image/gallery_image/2150314/toggle-heart

doImageHeartClickCallback

doImageHeartClickCallfirst

/image/gallery_image/2150321/toggle-heart

doImageHeartClickCallback

doImageHeartClickCallfirst
next
Extensions

Clip In Extensions

$600
1 hr.
REQUEST
Sew In Weave

Full Sew In Weave.

$600 and up
3 hr.
REQUEST
Feather Extensions

$450 and up
1 hr.
REQUEST
CoCo La Rue Tracks Weave CoCo La Rue Tracks are really tiny, so tiny that the track is invisible and flat to the head. This ... (more)
$650 and up
2 hr.
REQUEST
Weave Tighten

$160 and up
1 hr., 30 min.
REQUEST
Bond Weave

$450 and up
1 hr., 45 min.
REQUEST
Hair Extensions Removal

There's a fee for all extensions that we remove that we did not do.

$100 and up
30 min.
REQUEST
Seamless Extensions

$800
1 hr., 30 min.
REQUEST
Tape Extensions

Tape extensions are very natural and can last up to 3 months.

$800 and up
2 hr.
REQUEST
CoCo La Rue Infusions Strands Price includes coco larue remy hair. CoCo La Rue Infusion Strands are Individual Strands hair extensions will add length to ... (more)
$1800 and up
3 hr.
REQUEST
Micro Links Extensions

$1000 and up
3 hr.
REQUEST
Great Length Extensions

$1500 and up
3 hr.
REQUEST
Eyelash Extensions Eyelash extensions are any number of enhancements designed to add length, thickness and fullness to natural eyelashes. They may be ... (more)
$300 and up
2 hr., 30 min.
REQUEST
Eyelash Extensions fills

$100 and up
30 min.
REQUEST
Makeup Makeover

Makeup By CoCo La Rue Cosmetics

$100 and up
1 hr., 15 min.
REQUEST
Hair Extensions DC By CoCo
5300 Wisconsin Ave
Washington, DC, 20015
202-408-8844
| | | | |
| --- | --- | --- | --- |
| Saturday | 9:00am | — | 8:00pm |
| Sunday | 9:00am | — | 8:00pm |