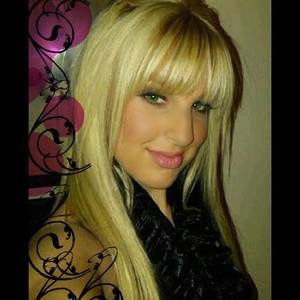 Ashley Stone
I am a Stylist and Salon Owner. I had an early introduction to the Beauty field and it's all I know. This isn't my job it's simply my life. I am extremely passionate and strive to be innovative and create as I go! I have a tendency to just follow what the hair wants to do. I've been trained and continue to maintain continued education but, I'm not a by the book stylist. I tend to trust my eye more than I trust a book. Everyone's hair, face, coloring, etc is different. I find things in my clients that inspire ... (more)
I am a Stylist and Salon Owner. I had an early introduction to the Beauty field and it's all I know. This isn't my job it's simply my life. I am extremely passionate and strive to be innovative and create as I go! I have a tendency to just follow what the hair wants to do. I've been trained and continue to maintain continued education but, I'm not a by the book stylist. I tend to trust my eye more than I trust a book. Everyone's hair, face, coloring, etc is different. I find things in my clients that inspire me and customize each look by my clients own features. I try to stay diversified in my talents but my loves are color, short hair cuts and formal styling. Whatever allows me to be even a tiny bit creative and that makes me THINK. My clients range from ladies just taking on life's milestones to well established business women.
My salon is a full service salon that has stylists that cater and relate to every kind of woman and are just as passionate.
We also offer on site wedding services for both hair and make up.
previous
/image/gallery_image/3168/toggle-heart

doImageHeartClickCallback

doImageHeartClickCallfirst

/image/gallery_image/3169/toggle-heart

doImageHeartClickCallback

doImageHeartClickCallfirst

/image/gallery_image/3170/toggle-heart

doImageHeartClickCallback

doImageHeartClickCallfirst

/image/gallery_image/3172/toggle-heart

doImageHeartClickCallback

doImageHeartClickCallfirst

/image/gallery_image/3173/toggle-heart

doImageHeartClickCallback

doImageHeartClickCallfirst

/image/gallery_image/3174/toggle-heart

doImageHeartClickCallback

doImageHeartClickCallfirst

/image/gallery_image/3175/toggle-heart

doImageHeartClickCallback

doImageHeartClickCallfirst

/image/gallery_image/3176/toggle-heart

doImageHeartClickCallback

doImageHeartClickCallfirst

/image/gallery_image/3177/toggle-heart

doImageHeartClickCallback

doImageHeartClickCallfirst
next
32 Fenn rd
Newington, CT, 06111
860-667-7722
| | | | |
| --- | --- | --- | --- |
| Tuesday | 10:00am | — | 7:00pm |
| Wednesday | 10:00am | — | 7:00pm |
| Thursday | 10:00am | — | 7:00pm |
| Friday | 10:00am | — | 7:00pm |
| Saturday | 9:00am | — | 4:00pm |
| Sunday | 11:00am | — | 3:00pm |